Conflict mineral free anodes to ensure safety
Features
We have eliminated the conflict minerals from our products.
Our products use lead in extremely low amounts, allowing us to comply with the RoHS (Restriction of Hazardous Substances) Directive.
Our anodes are made of minute crystal particles of uniform diameter to allow electroplating at low voltages, thus contributing to energy saving
We use special manufacturing methods to keep the oxide content in our anodes low in order to suppress the contamination of plating liquid and reduce the electroplating cost.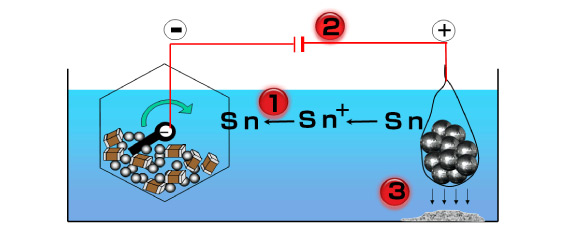 Audits verify that SMIC anodes do not contain "conflict minerals".
In addition to complying with Section 1502 of the Dodd-Frank Wall Street Reform and Consumer Protection Act for the conflict mineral-free cause, our products contain extremely small amount of lead. We ensure this by performing lot management. The deposit formed by the plating process contains extremely small amount of lead (1,000 ppm) as stipulated by the EU RoHS Directive. This eliminates the need of a separate process to check the lead content.
Fewer oxides on the grain boundaries make cost reductions possible.
The minute crystal structure also prevents too many oxides from getting formed between the grain boundaries. When the tin content of the anode is ionized to melt into the plating liquid, the oxides that are not desirable to the plating film deposit are released into the plating liquid. SMIC's low-oxide anodes release an extremely small amount of oxides to prevent contamination of the plating fluid, thus lowering the frequency of replacing the plating fluid, and eliminating the need of a separate cleaning process. This allows cost reduction.

Alloys with extremely few impurities and oxides
Sulfide and oxide content of SN100 anodes
 
Measured amount
Analysis method
C (%)
< 0.001
Infrared absorption spectroscopy of combustion gases
S (%)
< 0.001
O (%)
< 0.001
Inert gas fusion method
Surface depth direction analysis by ESCA (Electron Spectroscopy for Chemical Analysis)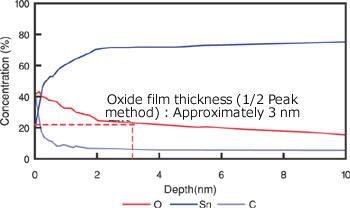 Specifications/Grade
M Type
S Type
A Type
Composition
Sn100, Sn98Cu2, Sn99Cu1/Sn95Pb, and Sn90Pb
Note: For information regarding other possible alloy compositions, feel free to write to us.
Purity
Total amount of impurities
A high-class product with a purity of 99.99% or more
Total amount of impurities: 0.007% or less
A high-class product with a purity of 99.9% or more
Total amount of impurities: 0.03% or less
Popular JIS E Grade product
Total amount of impurities: 0.1% or less
Standard dimensions

■Plank type: P type
Maximum dimensions: Thickness 25 mm Width: 150 mm Length: 1,200 mm
Examples of dimensions: 10×100×500, 15×150×500, 15×50×1,150, 20×100×600, and 20×150×700

●Ball type: Example dimensions of B type
Forged sizes φ13 mm, φ15 mm, φ20 mm, φ27 mm, φ50 mm
Forged sizes φ40 mm and φ55 mm

Shape


■Plank type: P type


■Special plank type


●Ball type: B type


●Ball type: Shipping cart with trucks
Top quality provided by an ISO certified factory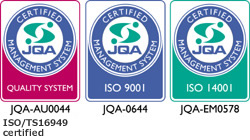 As a top-level leading manufacturer of solder for mounting applications, we have made the most of our research and development spanning no less than half a century, as well as our reputable product management technology and high-level production capacity to deliver cutting-edge technology together with world-class quality products. In addition, we analyze the composition of our Pureloy anodes for each melt unit and issue a record of results for them for the purpose of quality control.