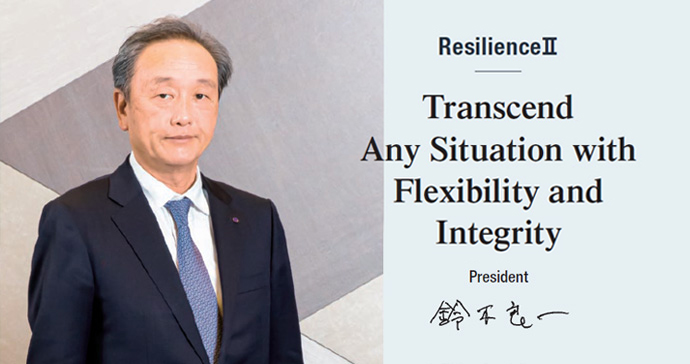 Four things SMIC wants to achieve to bring about a sustainable society
It is my pleasure to introduce the SMIC CSR Report 2021.
Day by day, it is increasingly critical that a company conducts its business activities based on the SDGs (Sustainable Development Goals) and ESG (Environment, Society, Governance) to help realize a sustainable society. We have listened to our stakeholders' expectations and requests for us to do so. We aim to meet these expectations and requests with our management philosophy Ability, Integrity and Fighting Spirit (trying to solve difficult problems and overcoming any challenges), the SMIC Group set the theme of this year's CSR report as Execute the power to perform - fighting spirit – What we want to achieve to welcome in a new era.
We will make a social contribution by achieving the following four objectives to welcome in a new era.
Establishment of BCP (Business Continuity Plans)
Realization of carbon neutral business
Promotion of low-temperature solder
Promotion of highly reliable solder
First, as for the establishment of BCP, we will strengthen our system that enables us to continue business activities even under extreme circumstances. They include outbreaks of infectious disease, such as COVID-19 which has been rampant globally since last year and natural disasters such as earthquakes and typhoons. We can achieve this by taking various measures such as decentralizing our sales, research, and management offices in addition to dispersing our productions sites.
Second, as for the realization of a carbon neutral business, we will actualize a sustainable production system that enables effective utilization of mineral resources and reduction of greenhouse gas simultaneously by promoting energy conservation in solder production and solder recycling.
Third, as for the promotion of low-temperature solder, we will develop and offer a solder that enables users to work at a lower temperature than before, reducing electricity use. We will also develop soldering equipment that controls temperature differences within the circuit, greatly reducing nitrogen usage, cutting power consumption, and greatly improving flux collection.
Fourth, as for the promotion of highly-reliable solder, we will develop and offer solder that is effective in various environments to realize Society 5.0 where No one will be left behind, save the lives that can be saved, live with a sense of vitality, and everything will be connected online using 5G, IoT, and automated operations.
Achieving these four objectives will bear further investment and business continuity, which will lead to the growth of our company. We believe it important to perform our mission as a socially valued institution and to achieve a sustainable society.
The SMIC Group that meets varied customer needs
Industrial Analysis Service, our group company, celebrates its 50th anniversary in February next year. It was established in 1972 and conducts an analysis of non-ferrous metals including solder, environmental analysis of soil and water quality, an analysis of regulated materials such as RoHS / REACH and phthalates. As a new analysis business, the Industrial Analysis Service has begun analysis of specific component structures for the purpose of assisting our customers' development by utilizing orbitrap, cutting-edge analysis equipment. We will continue to introduce new analysis facilities aiming to realize the development in analysis that our customers expect.
We will continue business activities to meet the needs of stakeholders including our customers and to achieve a sustainable society. I humbly request your continued support and encouragement in this endeavor.