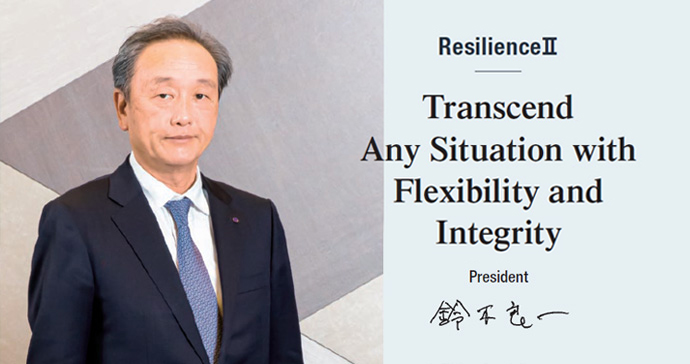 Enhance our own business foundation and supply chain and overcome challenges with suppleness
We are pleased to present the SMIC Group's CSR Report for FY2022.
Recently, unprecedented events such as the global outbreak of COVID-19 and international conflicts have had a major impact on the social economy. SMIC Group is determined to overcome these challenges with suppleness and integrity. Integrity means having a conscience and the right mind as a human being, as stated in our management philosophy of Ability, Integrity and Fighting Spirit. Therefore, we have set the theme of this year's CSR Report as Resilience - Overcome any challenging situation with suppleness and integrity.
To achieve this, we are determined to enhance our business foundation and supply chain.
To strengthen our business foundation, we will promote the BCP (Business Continuity Plan) through office dispersion, flextime, and telework in manufacturing, sales, R&D, and administrative departments to ensure uninterrupted business activities even in the event of pandemics such as COVID-19 or natural disasters such as earthquakes and typhoons.
To strengthen our supply chain, we will promote BCP from the supply chain perspective by establishing a flexible procurement system based on multiple purchase channels and a system enabling us to respond internally in the event of supply issues on the supplier side. In addition, we will continue to procure minerals from suppliers complying with the Responsible Minerals Initiative (RMI) to ensure responsible procurement. We will also work on responsible procurement of all primary and auxiliary materials other than minerals.
This is unclear, materiality related to SMIC Group in what way?
In recent years, business activities from the perspective of SDGs (Sustainable Development Goals) and ESG (Environmental, Social and Governance) have become increasingly important as we aim to realize a sustainable society. Our stakeholders have also been expecting and demanding the realization of this society. Therefore, from this year, we have ascertained our material issues (materiality) by identifying risks and opportunities for SMIC Group.
The first and most important materiality for SMIC Group is developing new products that help realize a sustainable society through our novel technologies and new materials. We have already developed low-temperature solder achieving carbon neutrality and highly reliable solder to realize Society 5.0. However, in order to pass the baton of the realization of a sustainable society in the future to the next generation, we believe it is essential to develop more new products using new technologies and materials. Therefore, it is important to put in more efforts to keep up with our suppliers and customers in developing advanced technologies and supporting them through partnership and co-creation.
Next, as a corporation it's important that we raise our ethical standards. We must always remain faithful to our stakeholders: suppliers, employees, local communities, the global environment, and our customers. Therefore, it is very important to communicate closely with our stakeholders, identify issues based on their opinions and evaluations, and reflect them in our business activities.
SMIC Group will continue to respond to the needs of our stakeholders and engage in business activities to realize a sustainable society. We look forward to your continued support and encouragement!
Our Materiality