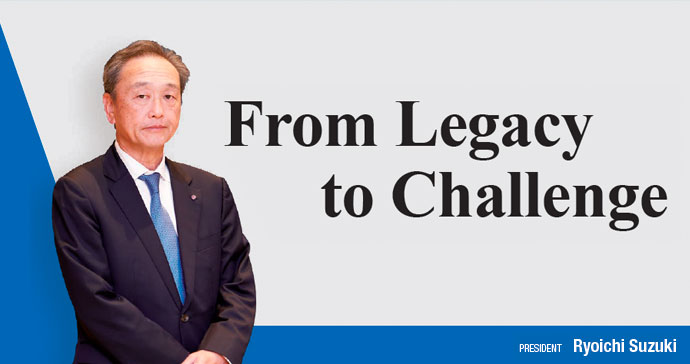 SMIC Group CSR Report 2018
This year, we are celebrating our 80th anniversary. After the establishment of the company as Senju Lead Works Co., Ltd. in 1938, we experienced a variety of turning points in our journey to become a global business.
The CSR report for this fiscal year is a special edition that commemorates our 80th anniversary and takes you through our corporate journey of the past 80 years. With the theme "Look at the world – Connecting the future," we look at our natural environment, economic climate, technological breakthroughs, and human resources on a global scale as a company that continues to be a social contributor.
Sustainability and value creation
As a global enterprise, we contemplate how to coexist with nature. We promote the expansion of our eco-friendly products such as lead-free solder and halogen-free solder paste M705 series, in addition to energy-saving production activities, zero emissions waste products, and chemical management. We have also made our products by sourcing conflict-free minerals to promptly comply with the U.S. Dodd–Frank Act enforced in 2013. Furthermore, we minimize overheating in our soldering applications as much as possible and promote the use of products such as low temperature solder paste that suppresses the CO2 emissions.
We have made sustainability of our environment, society, and economy our major themes, and we promote the creation of added values through our business activities.
Now, we are looking forward to welcoming a new era by expanding our outlook on diversity and by promoting the hiring of candidates with disabilities.
Work style reforms for bringing energy into our corporate management
There is a pressing need to create a comfortable workplace for all and to train the human resources by promoting work style reforms in Japan. We will make every effort to reduce overtime work, which is a major issue especially in Japan, and make further improvements to our work environment and enhance various benefit programs.
As a company, we are providing support for child and elderly care to achieve an optimum work-life balance and offering opportunities for various educational programs to enrich and fulfill the needs of not only existing employees but all dedicated employees, regardless of gender or experience.
Furthermore, to improve both the work environment and experience, we will automate our manufacturing equipment, adopt IoT technologies, and incorporate AI wherever necessary and appropriate.
We have been creating high quality products together with our customers and supplying eco-friendly products to protect our society and environment for a long time. We will forge ahead toward our 90th and 100th anniversaries by committing to continue making contributions to our society.